What Do We Do in Divorce Mediation Sessions?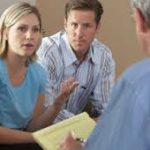 In divorce mediation each of you and our mediators, Fred Klarer, Esq., and Diane Kramer, Ph.D., all sit down together around a table. We are here to make a deal. Diane and I are each neutrals. Our job is to guide you through the process of divorce mediation.
We start by making sure that you each here to participate fully in the mediation process. We make sure that you are each comfortable with what we need to do, and answer and resolve any questions you still have. Then we start.
Issues to Resolve in Divorce Mediation
Our process for our divorce mediation sessions is to ask questions. We bring up the first question in the list of issues to resolve — child custody.
We start with child custody because most of the financial issues are influenced by the child custody decisions. I simply ask, "Have you discussed this before?" And we go on from there. What does each of you see for the daily lives of your children in the future? How will we assure a reasonable parenting experience for each parent?
Divorce Mediator Process at the Long Island Center for Divorce Mediation
So, our process is to, first, get the facts, then ask each of you want your views on an issue are. We then explain how the law would apply and how that would work for you. Sometimes that is all someone wants to know, or you both have already come to a decision. Our divorce mediators proceed to lead you through; child support, spousal support, finances including all assets and liabilities, property such as houses and cars, pensions, insurance and IRS.
For many people we need to make sure that you both understand how the law applies, then suggest other alternatives if that is what you are needing. We have a lot of experience in these issues, and between Diane, the psychologist, me, Fred, the divorce lawyer, we, as your mediators, have a pretty good idea of what works and what does not.
An arrangement might sound good in theory, but it just might not work in the real world of work, shopping, carting the kids around from sport to sport, and all that other stuff. Of course, it is up to you. We are participating to offer our knowledge and experience and to guide you in the discussion.
Decisions During the Divorce Mediation Session
The final decision is always yours, not your divorce mediators, not a judge and not an attorney. We are very aware of the danger of power imbalances between the two you and do not tolerate any bullying by either of you.
After all decisions are made and you are both in agreement, the next step in divorce mediation is for Fred, our Long Island Mediator Attorney, to draw up the Stipulation of Settlement or Separation Agreement, depending on circumstances. Make sure you review all our divorce mediation services.
Are you ready to learn more about our divorce mediation process or perhaps start the process itself. If so, contact us, your Long Island mediators, at our Long Island Divorce Mediation Suffolk County offices. Just fill out the form above.
Interested in our Huntington Office?… For directions to the Huntington Office…
Interested in our Yaphank Office?… For directions to the Yaphank Office…