Long Island Divorce Mediation Suffolk County and Nassau County
Need Info & Answers? Ready to Get Started? Mediation is Less Stressful, Faster & Less Costly

Email Divorce Mediation Long Island or call

631-757-1554

for info and Free Session, Huntington or Yaphank.
Meet with our 5-Star Suffolk Mediators
– highly experienced (25 yrs) easy-to-talk-to, caring Lawyer husband and Psychologist wife Mediator Team.
WELCOME!


Download our Free Divorce Mediation Long Island Checklist!

_________________________________
Have Questions about Divorce or Separation? Need Answers? Ready to move forward with Divorce Mediation? Not sure yet 'what' or 'how'? We can help!
"Fred and Diane were able to quickly de-escalate any points of contention and help find solutions that work for both parties. They helped mediation go as smoothly as possible and I would highly recommend them to others in the same situation."

"Fred is an excellent divorce mediator because of his wisdom into the human condition and his decades of experience as a divorce and family-court attorney."
Mediation is a less stressful, faster and less costly method of divorce. It leaves you and your Spouse in control of your agreements. The Lawyers and Judge are not in charge. You are. Even many difficult cases can be settled through mediation.
For 25 years, we at the Long Island Divorce Mediation Center in Suffolk County have successfully led thousands of couples through the 'what' and 'how' of mediation.
We, your mediators – Fred Klarer, Suffolk County Divorce Mediator and Divorce Lawyer  and Dr. Diane Kramer, Suffolk County Divorce Mediator and Psychologist – work together to help you make decisions about the key divorce issues. They include finances, support, the house, pensions and the children. Then, Fred, our mediator lawyer prepares all paperwork needed for your divorce.
Emotional issues of anger and pain often get in the way of reaching decisions. We help you stay objective. Long Island Divorce Mediation help you reach solutions that work.
None of our agreements has ever been overturned in the Court. 98% of our clients complete their Divorces and Legal Separations with us. Many say we are highly 'trustworthy'
Our Mediators in our two Divorce Mediation offices in Yaphank and Huntington will be happy to answer all questions.
________________________________
Here are the Need-To-Know Questions Most of Our Clients Ask at the Long Island Center for Divorce Mediation – and We Answer:
1. "What is Mediation?"

Ending your Marriage
In ending your marriage through divorce mediation, you and your spouse decide your own divorce. You avoid getting involved with two expensive lawyers, a Judge, and the Courts. Instead, you and your spouse meet with our Center's Long Island divorce mediators.
Mediator's Role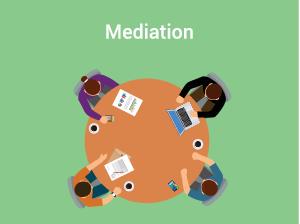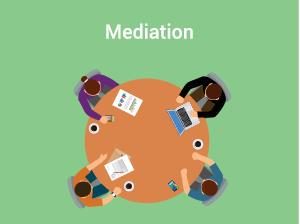 With your mediators' help and guidance, the two of you make decisions about all divorce issues. These issues include child custody and child support, financial agreements, spousal support, the house, debts and pensions. You end your marriage as amicably as possible. You spend far less cost, time and struggle.
Issues to mediate include:
Issues to Mediate
* Child Custody and Child Support
* Distribution of Finances
* Property, Including the House
* Spousal Support (formerly alimony)
* Your Pensions, Taxes and Debt
For more information, go to our services page.
__________________________________
2. "Should I Choose Divorce Litigation or Divorce Mediation?"
In Divorce Litigation, you will spend much time, much money and endure extreme stress. Finally, you and your spouse will be forced to finish the divorce.
Divorce Mediation Long Island
In working with a Divorce Mediator, you will most likely reach a better agreement. You will get there with FAR LESS TIME, FAR LESS MONEY and FAR LESS STRESS.
Why Choose Mediation?
Why will you reach a better agreement in a mediation process? Because you remain in control. In Divorce Litigation, the Lawyers and the Judge are in control. Often, the Judge will dictate the final Agreement between you.
In contrast, we, as highly experienced Divorce Mediators, will help you customize solutions to fit your unique circumstances.
Since New York State has no-fault divorce, if one of you wants a divorce, it will happen. Divorce Mediating is the less expensive, less stressful and faster way. Read Long Island divorce Mediation Better than Litigation to learn more.
Mediation Definition
wikipedia
Mediation is an alternative to traditional divorce"Divorce Mediation is an alternative to traditional divorce litigation. In a divorce mediation session, a mediator facilitates the discussion between the two parties by assisting with communication and providing information and suggestions to help resolve differences. At the end of the mediation process, the separating parties have typically developed a tailored divorce agreement that can be submitted to the court… Divorce mediators may be attorneys who have experience in divorce cases, or they may be professional mediators who are not attorneys, but who have training specifically in the area of family court matters. Divorce mediation can be significantly less costly, both financially and emotionally, than litigation. The adherence rate to mediated agreements is much higher than that of adherence to court orders."
__________________________________
3. "What Are My Rights in Divorce in Long Island, New York?"
Many people don't realize that there are laws and guidelines that determine many of the divorce issues handled during mediation in New York. For instance:
Child Custody
In Suffolk County, divorce mediation offers two types of legal custody. They are: joint (both parents) and sole custody. If you and your Spouse decide on joint custody, either can have residential custody. Residential custody is where the children reside most of the week. In a mediated divorce, you and your Spouse can customize this.
Child Support
Child Support is a set amount, based on the income of the non-residential parent. Of course, if you mediate, both Spouses can agree to vary the amount, depending on circumstances.
Spousal Support
The Courts have established a formula, based on a number of factors. Again, both Spouses can agree to vary the amount.
Financial Division of Assets
Anything the two of you earned or acquired during marriage is considered joint property and dividable. There are three exceptions: an inheritance, a personal gift and a personal injury recovery (in most cases).
Property
The Property you buy during the marriage is considered joint. You can sell the house, arrange for one Spouse to remain or one of you buy the other out. Your Long Island Divorce Mediator will help you figure out the best strategy for your situation.
Pensions
Whatever comes into your pension during the marriage is considered joint property and dividable. Again, you and your Spouse can vary this in Mediation.
__________________________________
4. "How Does our Center's Long Island Divorce Mediation Work? What Are the Steps of the Process?"
In brief, there are three parts to the Mediation Process.
The Divorce Mediating Sessions
Your Mediator guides you and your Spouse through each issue until you reach agreement. In Divorce Mediation Long Island, we help you reach an agreement within an average of two sessions. 98% of our mediations succeed to completion. Our expertise as mediators guides you through the rough spots.
The Stipulation of Settlement
Once the Mediation Sessions are complete, our lawyer drafts your agreement. It is a contract between you The contract lays out the terms of the divorce. It is called the Stipulation of Settlement.
The Divorce Packet
Our Mediator Lawyer, Fred Klarer, then completes the divorce packet. It is approximately 60 pages of documents that the Courts require for you to get a legal divorce.
Once complete, you come in and sign the Stipulation of Settlement and the Divorce Packet. These documents are submitted to the Judge to sign. When that happens, you are legally divorced.
(Click how-long-does-it-take-to-get-a-divorce-through-mediation to learn more about how the process works and how long it takes.)
Call for a FREE CONSULT/FIRST SESSION, 631-757-1553, email Divorce Mediation Long Island or fill out the form below.
__________________________________
5. "What If I Want a Legal Separation?"
Some couples want a Legal Separation. One key reason is the following. Usually the Spouse with the health insurance can keep the other on the policy. That is not possible once a Legal Divorce is in place. Our Mediating process can result in a Legal Separation if you choose.
Read more about the reasons for a separation rather than divorce.
__________________________________
6. "What If I Believe That My Spouse Will Never Agree to Go to a

Long Island

Mediator ?"
What if your Spouse absolutely refuses to cooperate into coming to Divorce Mediating? You can seek out a litigation attorney and sue your Spouse for Divorce. However, if you really want to end your marriage, most Spouses will eventually agree to Mediation. Why? Because of the high cost of Litigation. Also because of the unpredictability of the results in the Court.
Once you have started divorcing, it is our expertise as divorce mediators that will help the two of you reach an agreement. We can help even when there is a lot of conflict and anger.
__________________________________
7. "Why Should I Choose this Long Island Divorce Mediation Center?
The question is – which Mediation Service to use? Not an easy choice as there are many. Here is why we recommend ourselves – why we believe we stand out from the crowd:
Our first divorce mediation office opened in Huntington, NY in 1995. Our aim – to provide high quality complete divorce mediator services to Suffolk County and Eastern Nassau County.
In November, 2017, we opened a second  mediation office in Yaphank – right off Exit 68 of the Xpressway.
Our Experience as Mediators on Long Island
25 years ago, we recognized that Mediation was a far better alternative than divorcing by going to two lawyers and the Courts, and fighting it out.
So we trained as neutral divorce mediators and opened our first office. Now we have 25 years of experience under our belts. We have mediated every situation imaginable.
And 98% of our cases complete the Mediation process. Only a handful go to Court – only when one Spouse absolutely refuses to compromise. The end result – usually that Spouse ends up getting less from the Judge.
We are experienced enough that we, at our Long Island Center in two locations in Suffolk County, take, on the average, two meetings to complete the mediation process – as compared to those mediators who sell you a package of 5 to 10 sessions.
8. "Who Are Our Divorce Mediators?"
Our Professional Backgrounds: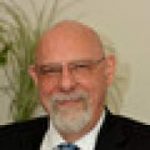 Fred Klarer, Divorce Lawyer and Mediator
My partner, Fred Klarer, Esq. is our Long Island Divorce Attorney and  Mediator. He has 35 years of experience.
Fred, a Harvard Law Graduate and former Buddhist Monk, is expert in Divorce and Divorce Law. This includes child custody and child support, spousal support, and assets and liabilities. The financial issues include the house, debt and your pensions.
Given Fred's experience in the Divorce Courts in Nassau County and Suffolk County, he can tell you what to expect if you go to two separate lawyers. His experience will guide you to a far better solution.
As a Long Island divorce mediation lawyer, he is amazing at helping clients reach agreements that work. Clients at our two Long Island divorce mediation offices tell Fred that he is soothing and calm, non-judgmental and very wise.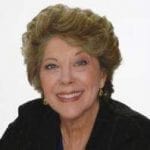 Diane Kramer, Long Island Divorce Mediator Psychologist

I, Dr. Diane Kramer, am a clinical psychologist, licensed in NY State since 1974. My specialty is both Marriage and Family Therapy and Mediation. In the 90s, I trained as a divorce mediator.
Clients tell me that I am knowledgeable, trustworthy, calming and am highly effective in conflict resolution. I am expert at helping children and families through ending the marriage onto a happier future.
My skills set me up to help you and your Spouse through the difficult issues, while calming stress, anger or anxiety. I am excellent at not taking sides and am an expert in the emotional stages of divorce. Most importantly, I make sure that both Spouses get heard and power is balanced. I think out of the box and help you and your Spouse reach an agreement that works.
Our Personal Pasts
We, Diane and Fred, Partners at our Divorce Mediation Long Island offices, are married to each other for many years. Both of us divorced our first Spouses a long time ago.
We went through what you are going through now and so we understand. Therefore, we are better prepared to help you when the going gets difficult.
To learn more about us as mediators, click here… Or call 631-757-1554 or email divorce mediation long island.
________________________________
9. "What are Divorce Mediation Costs at the Long Island Center for Divorce Mediation?"
Please contact us for a quote. Costs vary based on the complexity of your situation – from approximately $2000 to under $5000. Our Mediation Centers are set up to offer reasonably priced services.
(Check out our blog here.)
________________________________
10. Contact US
For information or to start the divorce mediation long island process, call us at 631-757-1553 or email us below to set up a FREE Initial Session  or get your questions answered.
Please CONTACT US FOR FREE FIRST SESSION, INFO AND ANSWERS
Two locations for your convenience: Suffolk County is the largest county in New York. With approximately 1.6 million people, this county stretches from the Nassau County border to the eastern ends of Long Island, Montauk and Orient Point. The Long Island Center for Divorce Mediation has opened two offices in western Suffolk County and in mid-Suffolk County. These offices serve those seeking divorce without litigation – an uncontested Suffolk County divorce through divorce mediation.
Our Office Locations for Suffolk County Mediation
Yaphank Office at Exit 68 of the Expressway
Long Island Center for Divorce Mediation
214 Vanderbilt Loop
Yaphank, NY 11980
631-757-1554
Hours of Operation:
M-F – 9:00 AM to 9:00 PM
Sat. – 9:00 AM to 6:00 PM
This Divorce Mediation office services serve a large area within thirty minutes. Villages and towns include: Selden, Riverhead, Westhampton, Hampton Bays, Wading River, Shoreham, Shirley, Rocky Point, Moriches, Miller Place, Mount Sinai, Middle Island, Port Jefferson Station, Port Jefferson, Ridge, Ronkonkoma, Farmingville, Holbrook, Holtsville, Hauppauge, Commack, Smithtown, Stonybrook, Patchogue, Islip, Bayshore, Islandia, Oakdale, Bayport, Bellport, and Great River.
Our Yaphank Office, opened in October 2017, is growing briskly due to it's highly convenient location no more than 30 minutes from a host of communities that feed into the Expressway. Our Yaphank Office offers a full range of divorce mediation services, including the mediation of all divorce issues, Stipulation of Settlement, divorce packet, parenting plan and child custody arrangements, spousal and child support and financial division of assets and liabilities.
— Read about services at our Yaphank Office, Exit 68 right off the Expressway – Call Now 631-757-1554
— For directions to our Yaphank Office
Long Island Center for Divorce Mediation
75 Prospect St.
Suite 103
Huntington, NY 11743
631-757-1553
Hours of Operation:
M-F – 9:00 AM to 9:00 PM
Sat. – 9:00 AM to 6:00 PM
This Suffolk County Divorce Mediation office serves Eastern Suffolk and Nassau County Areas – Huntington, Smithtown, Cold Spring Harbor, Commack, Northport, East Northport, Centerport, Elwoood, Plainview, Woodbury, Bayshore, Babylon, Islip, Amityville, Farmingdale, Melville, East Norwich, Deer Park, Kings Park, Massapequa, Seaford and Oyster Bay.
— Read about our services at our Huntington Office – Call Now 631-757-1553
— For directions to our Huntington Office
Have We Answered Some of Your Questions? We hope so.